We are sad to report the recent passing of Walter Kohn, who died  Tuesday 19 April in Santa Barbara, California.
The following is his obituary from the New York Times…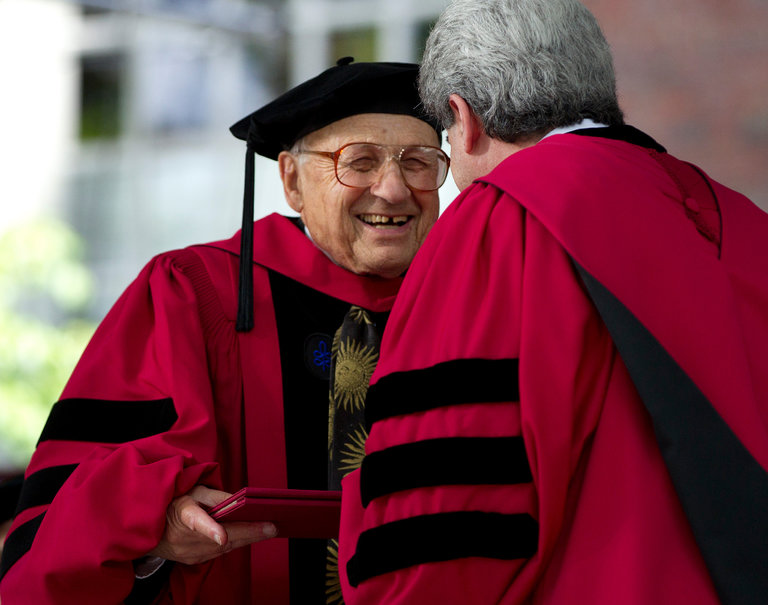 Walter Kohn, an Austrian-born American scientist and former refugee who shared a Nobel Prize in Chemistry — a subject that he had last formally studied in high school — died on last Tuesday in Santa Barbara, Calif. He was 93.
The cause was cancer of the jaw, his wife, Mara Vishniac Kohn, said.
As a teenager, Dr. Kohn had escaped to England from Nazi-occupied Vienna less than a month before World War II erupted, found himself shipped to Canada as an "enemy alien" and later built a long, distinguished academic career in the United States, becoming an American citizen in 1957.
He was awarded the chemistry prize by the Royal Swedish Academy of Sciences in 1998. At the time, he was teaching at the University of California, Santa Barbara. He shared the award with John A. Pople, a British-born mathematician at Northwestern University.
Dr. Kohn was credited with a discovery that applied quantum mechanics and advanced mathematics to explain complex chemical reactions.
"Walter Kohn showed that it is not necessary to consider the motion of each individual electron," the Swedish Academy said. "It suffices to know the average number of electrons located at any one point in space."
His theoretical research into atomic behavior and the formation of chemical bonds enabled scientists to develop new molecules that formed the basis for innovative materials custom designed for medicines and for advances in electronics.
The approach became known as the Density-Functional Theory. It is the basis of many aspects of computational chemistry, in which the geometric structure of molecules can be mapped and reactions predicted.
Dr. Kohn was born in Vienna on March 9, 1923, the son of Salomon Kohn, who ran a business selling artistic postcards, and the former Gittel Rappaport, whom Dr. Kohn described in an autobiographical sketch for the Nobel committee as "a highly educated woman with a good knowledge of German, Latin, Polish and French and some acquaintance with Greek, Hebrew and English."
As middle-class Jews, the family summered on the Baltic Sea until Hitler came to power. Dr. Kohn said his parents "were a part of the secular artistic and intellectual life of Vienna."
Dr. Kohn appeared headed to work for the family business when it was confiscated in Germany's annexation of Austria, known as the Anschluss, in 1938. Expelled from public school, he enrolled in a Jewish school and there became enamored of math and physics.
As persecution of the Jews escalated, his parents put him on a Kindertransport rescue convoy for refugees bound for England, where his older sister had arrived earlier. The parents were later murdered by the Nazis at Auschwitz.
In England, by his account, Dr. Kohn assumed he would become a farmer. "I had seen too many unemployed intellectuals during the 1930s," he wrote in the Nobel sketch.
Instead, after contracting meningitis and becoming too frail to work on a farm, he enrolled in school and continued his scientific studies.
In 1940, on Winston Churchill's orders, he and other male "enemy aliens," the term for those who held German passports, were shipped to detention camps in Canada. There he continued his education, enlisted in the Canadian Army, and then earned bachelor's and master's degrees at the University of Toronto. He earned his doctorate in physics at Harvard University.
Dr. Kohn went on to teach, mostly physics, at Harvard, Carnegie Institute of Technology in Pittsburgh (now Carnegie Mellon University) and the University of California, first at San Diego and then at Santa Barbara, joining its faculty in 1979. He became the founding director of the Institute for Theoretical Physics (now the Kavli Institute) at Santa Barbara and had been professor emeritus there since 1991.
He also helped establish a program of Judaic studies at the University of California, San Diego.
Dr. Kohn's first marriage, to Lois Adams, ended in divorce. Besides his second wife, Mara, the daughter of Roman Vishniac, the photographer and biologist, Dr. Kohn is survived by three daughters from his first marriage, Marilyn Kohn, Ingrid Paymar and Rosalind Dimenstein, and three grandchildren.
"Physics isn't what I do," Dr. Kohn once said. "It is what I am."
As late as 1998, Dr. Kohn was an in-line skater, boasted of his homemade ratatouille and echoed his father's turn to pacifism after the elder Mr. Kohn had lost a brother during World War I.
Decades after enlisting as a Canadian infantryman, Dr. Kohn actively opposed the nuclear arms race with the Soviet Union and joined other faculty members in unsuccessfully seeking to terminate the University of California's role as manager of national nuclear weapons laboratories at Los Alamos, N.M., and Livermore, Calif.