10th ABINIT International Developer Workshop – Part 2
May 16-19, 2022 Guidel-Plages, France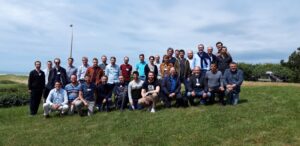 Event website
The complete list of participants can be found here.
General presentation
The ABINIT developer workshops form a series of events, crucial for the community of ABINIT developers, organized every two years. A unique occasion for most developers to acquire or maintain a global view of the project and stay up to date with the latest capabilities, planned developments, and overall strategy. The developer workshop is always an opportunity to invite external researchers, from other codes and communities, to exchange best practices and expertise…
This workshop was the second part of the 10th ABINIT developer workshop. It was held from 16th to 19th May 2022 in Guidel-Plages (Brittany, France).
Because of the COVID19 pandemic situation, in June 2021, the meeting occurred in a fully remote version, with only remote presentations and some group discussions. We missed several important parts of the workshop : small group discussions, thematic discussions, informal discussions, hackathons, etc. Many of the participants emphasized the need to meet again in person when the health situation permits it.
In May 2022 we organized the second part of the workshop, with a smaller number of participants, mostly based on the missing ingredients above, plus a few invited presentations. It was a complementary and entirely live/offline event, consisting of discussions, round tables and hackathons. The physical presence of developers was a requirement to have efficient round tables and informal discussions.
The workshop was mainly dedicated to implementations and decision making by the developers:
Every morning we had a session of hackathons. Divided into small groups, we worked on the ABINIT package : coding, improving the documentation, creating tutorials, interfacing the code with other software, etc. Each developer chose projects and hackathons according to his/her specific expertise in the project.
During two afternoons, we met collectively to discuss and consider the future of the code: future scientific themes, dissemination and the visibility, user experience improvement.
A third afternoon was dedicated to invited speakers' presentations. The speakers were chosen because of their involvement in projects external/complementary to ABINIT. Continue reading 10th ABINIT International Developer Workshop – Part 2 →