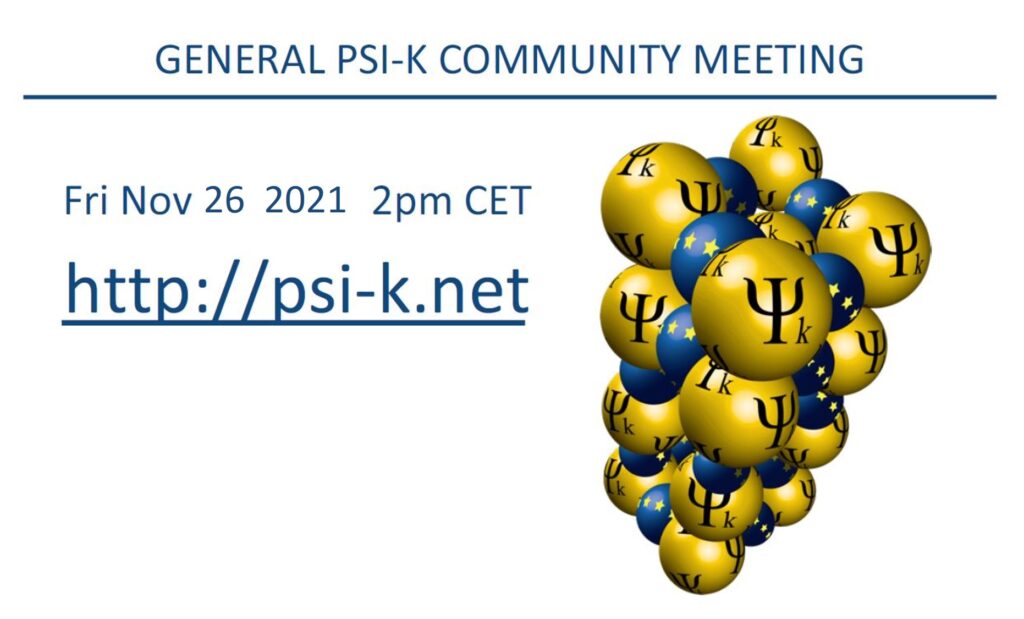 Dear Psi-k,
Last year the pandemic prompted us to organise the first Psi-k community meeting online, which aimed to reach a wide audience and discuss our activities and modes of engagement – from submitting proposals, to becoming involved in the community, to supporting its activities – all to help our field thrive.
The positive feedback and experience last year has encouraged us to organise another meeting as an open webinar on Zoom on Friday 26 November 2021 at 2pm CET – this is Central European Time (you can translate it here: https://time.is/CET); hopefully convenient for many, and with apologies to those for whom it is not.
The webinar link, that you are also welcome to share, is: https://ukri.zoom.us/j/95496792916?pwd=c2tZNFQrZnpvYTVYQUFHUHZuN0pYdz09.
The Psi-k Trustees will be present, and a short presentation will provide an update on developments over the last year and preview of future plans, notably the Psi-k Conference, which we expect to be held in person in Lausanne, 22-25 August 2022. This will be followed by Q&A and discussion that I hope will be as lively and constructive as last year.
I very much look forward to sharing our news and discussing our plans with you.
Peter Haynes (Psi-k Chair)