July 10, 2017 to July 21, 2017
Abdus Salam International Centre for Theoretical Pysics, Trieste
LIST OF PARTICIPANTS (reference code or initiative in parentheses)
Volker Blum (ELSI), Viktor Yu (ELSI), William Huhn (ELSI), David Lopez (Siesta), Yann Pouillon (Abinit), Micael Oliveira (Octopus & Abinit), Fabiano Corsetti (Siesta & Onetep), Paolo Giannozzi (QE), Anoop Chandran (QE), Pietro Delugas (QE), Ivan Carnimeo (QE), Emine Kucukbenli (QE), Layla Martin-Samos (QE), Stefano de Gironcoli (QE), Ivan Girotto (QE).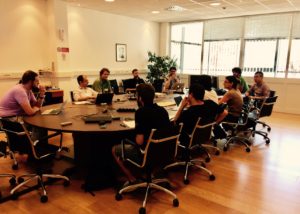 SCHEDULE:
First Two Days: round table presentations and discussions focusing on an analysis of the available ESL "utility tools" and on opportunities for code reuse.
From Day Three: daily morning update of the work done and planning the activity for the day. Coding sessions.
WORKSHOP MOTIVATION AND OUTCOME:
In the past several decades Electronic Structure methods have mostly been developed in self contained monolithic software distributions implementing a variety of features. Currently most of these large codes contain routines with overlapping functionality and make use of non-standard data formats due to historical reasons, and as the state of the art in theory and computer hardware progresses, the complexity of these codes continue to grow separately, in a way that reduces their inter-operability with each new version. Continue reading ELECTRONIC STRUCTURE LIBRARY CODING WORKSHOP: DRIVERS →